I'm back in action....sorta. After 7 days and verrry late nights with my high school chums I am still trying to recover! I will post more about that tomorrow - but in the meantime:
It's a Social Parade-Follow on Fridays, join us for socializing, and to get more followers, reader and subscribers to your blog...and meet new friends perhaps! It's hosted by Smart & Trendy Moms . Click the link, grab the button and then add your link!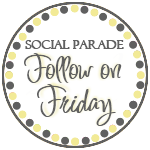 So, how do YOU do today? Remember this ditty?
Hey that's what I'm living for.....at the Shores